Campus View Group Wins Lieutenant Governor's "Sing Me A Song" Award 2018
This singing group was thrilled to be selected as the winner of the "11 and under" category of the Lieutenant Governor's "Sing Me A Song 2018" challenge.  Students wrote and performed an original song about British Columbia.  Please click here to watch our submission video.
We had the exciting opportunity to sing at Government House and Her Honour visited our school for a special assembly to present us with the award.  Please click here to see us performing at Government House.
CBC Music Challenge 2017 – Orffestra Club makes Top 10 and Olympic Group Wins "Elementary Instrumental" category!
Both the Orffestra (which collaborated this year with a school in Quebec) and the Olympic group were selected as Top 10 finalists in the CBC Music Challenge 2017.
A huge congratulations to all the students who participated!  We also learned that the Olympic group won the Elementary Instrumental category!  We were very excited that their performance video was showcased on CBC TV during the Winter Olympics.
P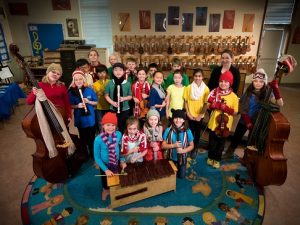 lease watch our CBC Music Challenge videos here:
Orffestra Club Performs with children's singer Will Stroet (Star of "Will's Jams" on CBC Kids)
The Orffestra Club was extremely honoured to perform "Ella's Umbrella" with Will and the Backyard Band at his May 2017 concert.  We would like to thank Will and the band so much for this fantastic opportunity which we will remember for a long time!  You have inspired us to continue to do our best in music classes.  The entire school loved this show!  Please click
Campus View's "Sing Me A Song" Entry for 2017   
Click here to watch our video submission of "Our Proud Canada".  This song was written by the students and performed by this singing group for the 2017 Lieutenant Governor's "Sing Me A Song" Challenge.
Choir Honoured to Sing "O Canada" at Victoria's New Year's Eve Celebration
The Campus View Choir was honoured to sing "O Canada" on Victoria's main stage at the Canada 150 New Year's Eve celebration downtown.
Click here to watch a video and hear our performance.
Orffestra Club Wins the "Elementary Instrumental" category of the CBC Music Challenge 2016
Mrs. Onuma is pleased to offer an extra-curricular Orffestra Club during the lunch recess on Thursdays.  Students in this club play a variety of instruments including xylophones, soprano and alto recorders, ukuleles, piano, bass, violins, and flute.  We submitted our video (an instrumental cover of "Stitches" by Shawn Mendes) to the CBC Music Class Challenge and were selected as the 2016 winner for the Elementary Instrumental Category.  This was such an exciting experience for us.  Please click here to watch our performance.  Please click here to watch the CBC Music Challenge
Shaw TV Documentary on Campus View Elementary Music (Music in School Makes Their World Go Round)
Times Colonist CBC Music Challenge 2016 Article
Saanich News CBC Music Challenge 2016 Article
Saanich News CBC Music Challenge Article 2017
Saanich News "Sing Me A Song" Award Article 2018